On this Website, Michael McInally will post photos from Racing Meeting's. From Birdsville to Kilcoy and everywhere in-between you will see Michael and the Team Photographing away to catch that special moment. 3 Way Photos who are the Official Race Day Photographers at all the tracks that we attend, so they will be helping "Bring the Country Racing to the city".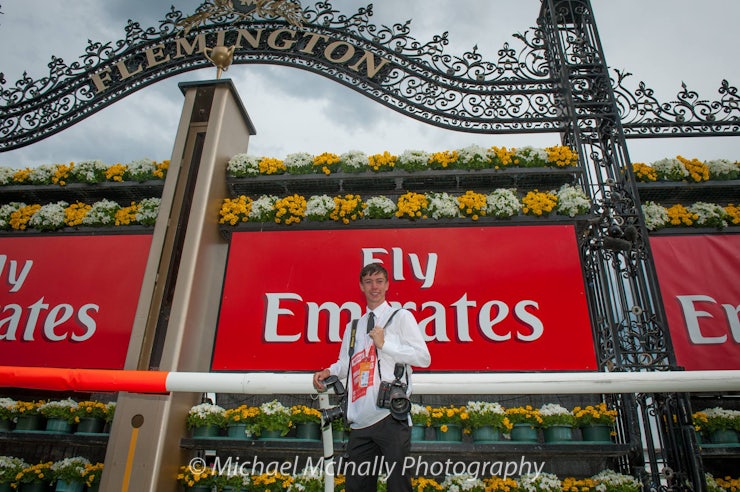 Michael McInally
( Photo by Sharon Chapman/fast Track Photography)

Michael McInally being only 18 year old has done quite a bit of work for country racing in Queensland. He gives all the new jockeys and trainers trying to make their names in this industry a chance to been seen where otherwise they wouldn't. The photography that he produces is of a very high standard with the latest equipment and the fresh ideas to change Horse Racing Photography. "The feeling I get when a new jockey wins their first race or I get a good shot that shows action or emotion at race track is amazing". "It is like you are sharing in a part of history". It's not just horse racing Michael as been able to shoot. He often gets published in the Queensland Times newspaper with lightning or firework images. He was lucky enough to get Media accreditation to go down to Melbourne to photograph the Melbourne Cup Carnival which was a huge eye-opener for Michael especially being only 17 at the time and being able to work with Australia's best Sport and Horse Racing Photographers.



Michael is available or all types of photo-shoots so if you have an Event that you want photographed please don't hesitated to email him then something can be arranged



I am always open to suggestion, so feel free to contact me on michael.mcinally@hotmail.com at any time.
Under Rail shot of the 2011 Roma cup
This photo won Best Photo in Racing Queensland Awards for the 2011-2012 race season but just missed out on the overall Media Award
Also this photos was lucky to get the front cover of the 2012 November edition of the Racing Queensland Magazine which happen to be his first cover photo with Racing Queensland